Success is an Attitude
Master the Right Attitude and Remove Personal Roadblocks to Success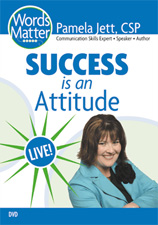 All great success in life starts out with one fundamental—the right attitude! This is a "must have" for everyone in your organization: managers, supervisors and support staff alike.
A high energy, insightful program where you can discover how to:
Pattern yourself after successful people.
Jump start your attitude and increase productivity.
Keep toxic people and thoughts from poisoning
your day.
Quickly perform a self-attitude adjustment.
Uncover what success means and how to achieve it.
Remove personal roadblocks to success.
Plus much more!
Return to Success Store