Stress Busters
12 Stress-Busters for Living a More Balanced Life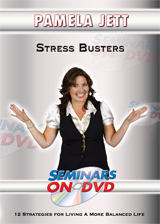 Stress is a silent killer. It has a profoundly negative effect on our health, both mentally and physically. And at the same time, we live in a world filled with potentially stressful situations and people. Learn to manage time and minimize stress so you can increase your productivity.
In this practical program you will discover:
How to recognize the warning signs of
excessive stress.
How to take charge of stress and minimize its effects.
12 specific stress-busters to help relieve the pressure, both internally and externally.
How to say "no" to the things that don't serve your most
important goals.
A method for lowering the mental impact of stress.
Ideas for prioritizing your time and tasks.
Plus much more!
Return to Success Store