Snipers, Steamrollers and Chronic Complainers
Dealing with Difficult People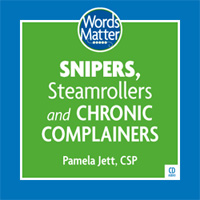 Conflict is inevitable. Having it disrupt productivity and harm relationships is not.
In this revealing audio program you will discover:
Why most conflict management strategies don't
work and what to do about it.
The #1 reason difficult people are difficult.
The common roots of conflict.
How to get the most from difficult people.
Communication tools to diffuse anger and calm people down.
How to stay calm, cool and collected even when others are not.
Plus much more!
Return to Success Store