Communication Success Series
One Impressive Bundle, Countless Successful Communication Results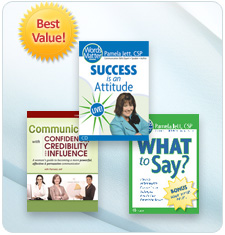 It's no secret—communication is your most important skill. Master the art of successful communication with this compelling collection of Pamela Jett's popular audio CDs and DVDs. Pamela shares with you secrets of remarkable communication so that you know what to say, how to say it, and how to communicate with more confidence and the right attitude.
This powerful audio CD and DVD collection includes:
Communicate with Confidence, Credibility and Influence (6 Disc Audio CD Set)
Success is an Attitude (DVD)
What to Say? (Audio CD)
Words Matter, so join Pamela Jett and learn the secrets to remarkable communication for remarkable results.
Return to Success Store