Communicate With Confidence, Credibility and Influence
A Woman's Guide to Becoming a More Powerful, Effective & Persuasive Communicator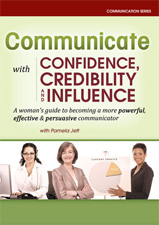 Take advantage of this 6 disc audio CD set to master language patterns and templates to use to keep emotions
in check when dealing with difficult situations and
difficult people.
This powerful woman's guide will teach you:
Powerful words & phrases to use to build relationships & excite productivity.
How to stop self-defeating communication choices.
A powerful system for handling difficult conversations without igniting defensiveness in others.
To banish the tendency to say "yes" when what you really mean is "no."
"Goat hiding" techniques to stay calm, cool and collected in emotionally
charged situations.
Assertiveness techniques that really work - including "doing the unexpected" and "less is more."
Return to Success Store