The Administrative Assistant Advantage
Secrets to Support Staff Success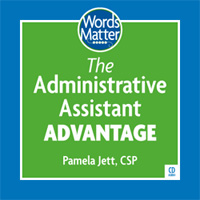 Excellent administrative assistants can enhance any organization's ability to achieve goals and objectives.
In this program designed specifically for support staff you will discover:
The #1 secret to success as a support
staff person.
Tools to keep interruptions from taking over
the day.
How to manage conflict and difficult people.
Time management tips to maintain control of time, tasks, priorities & multiple bosses.
Communication skills essential for every team player.
Powerful ways to take initiative and solve problems.
Plus much more!
Return to Success Store