Success is an Attitude
A Words Matter Motivational Experience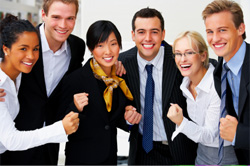 Top performers have a blueprint for success—one everyone can model. This wildly popular program can ignite everyone, from team leaders to team members, to reach their peak performance potential.
This program makes a terrific opening keynote, luncheon keynote or closing keynote. In this innovative and practical program, Pamela Jett inspires, educates and provides remarkable tools everyone can use when they want to stay positive, productive and promotable—even under pressure!
Attendees of this keynote will:
Master successful people's #1 secret to reach goals and achieve personal and professional objectives.
Learn to avoid "victim thinking" (and acting) by changing internal dialogue.
Discover how to jump-start attitudes and increase productivity.
Reap the rewards of increased emotional intelligence and maturity.
Acquire remarkable techniques to control toxic thoughts, toxic people & toxic events.
Answer the most meaningful question in order to achieve success.
Craft individual action plans and remove roadblocks to success.
No one is immune to challenges and changes that inevitably happen. Projects don't go as planned. Other people can be difficult. It is how we respond to these challenges that will determine our level of success. Our responses are determined by the attitude we take to every event. Top performers take an attitude that is positive, proactive, productive and professional because they know "Success is an Attitude"!
Want to hire Pamela Jett?
Already hired Pamela Jett?
Hire Pamela Jett to speak about successful attitudes at your next event.