Snipers, Steamrollers and Chronic Complainers
Remarkable Communication Tools for Dealing with Difficult People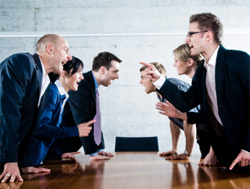 Get past the drama of difficult people and on with the business of being productive. Imagine how you and your organization would profit—literally—if team members could deal productively with difficult people and communicate through conflict and confrontation more effectively.
Imagine: No more productivity killing feuds between co-workers and departments. No more time wasting conversations with demanding and difficult people.
Put an end to unproductive conflict that spirals out of control and damages relationships. Take the guesswork out of challenging communication situations and master remarkable communication techniques to reap the rewards of better relationships, better customer service, and increased employee satisfaction and retention.
Participants will benefit from this interactive workshop by discovering:
Remarkable tools to stay calm, cool and productive in emotionally charged situations.
The #1 reason difficult people are difficult and what to do about it.
Specifically what to do and say to counteract typical tactics difficult people use.
Powerful communication techniques to diffuse anger and calm people down.
Individual ability to resolve conflict and manage confrontation.
Why "goat hiding" is a must-have skill set and how to use it for success.
The most powerful and productive things to say 

—

and what not to say

—

when others lose their cool.
Language patterns for "tough conversations" and how to turn fear of conflict and  confrontation into confidence.
Pamela Jett's remarkable communication tools give you the power to deal with even the most
difficult people with tact and finesse.
Want to hire Pamela Jett?
Already hired Pamela Jett?
Hire Pamela Jett to lead a communication workshop for your organization.