Communicate, Lead, Succeed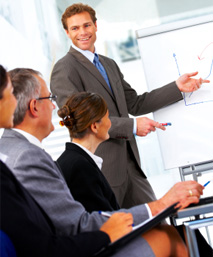 Can you really afford to learn communication and leadership skills through trial and error? Proven
solutions and solid skills are needed to become a
strong, confident leader.
In this intensive program you will master remarkable communication techniques that establish your credibility and unite a high performance team.
This event will help you gain essential skills for understanding, relating to, leading, and working more effectively with all types of people... even the most difficult! People with remarkable communication skills make better leaders, team members and professionals.
In this interactive workshop participants will discover:
The difference between leadership and management and how to be a
leader in all areas of life.
How easy it is to take the "high road" as a leader once you understand the
crucial difference between being "right" and being "effective."
Language patterns & templates to use to control emotions in difficult situations.
Powerful words & phrases to use to build relationships & pump up productivity.
The root causes of communication challenges and how to overcome them.
Remarkable communication tools to help you work more effectively with
people of diverse personality types and communication styles.
A powerful system for handling difficult conversations without igniting defensiveness
in others.
Why a "wrinkly brain" is essential for success.
Research is very clear: Dissatisfaction with working relationships is one of the top contributors to employee turnover. Now more than ever, leaders need remarkable communication skills to get the results they want from their team. Experience the benefits of enhanced productivity, increased employee retention, decreased conflict, and increased employee satisfaction that come when you learn to communicate, lead and succeed!
Want to hire Pamela Jett?
Already hired Pamela Jett?
Hire Pamela Jett to teach your team how to successfully communicate & lead.