Brain Wrinkle Sign-up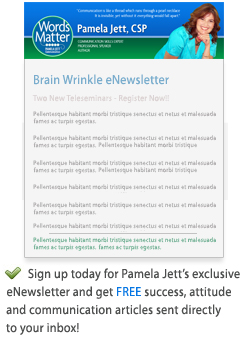 Join the exclusive group of top-performers who receive Pamela Jett's free eNewsletter. Sign up for the Brain Wrinkle eNewsletter to receive articles and advice from Pamela on topics such as career success, communicating with confidence, and possessing and managing the right attitude. Take advantage of this incredible opportunity to gain a free tool that will
help you achieve remarkable communication and remarkable results.